Everything below as It is important to educate yourself.
Making sure you are a good candidate & for you to understand how it works.
Please fill out the form below & we will be in touch for booking a appointment.
Microblading Is a safe and effective way for most people to enhance the look of their eyebrows with the most natural looking results. You may want to fill in patchy areas, create definition, depth or even out your eyebrows.
Time
Saver
PRICE LIST
---
MICROBLADING................................ 375$
TOUCH UP ........................................... 125$ ( Done 6-8weeks later)
ADDITIONAL TOUCH UP ................ 85$
CONSULTATIONS .............................. 50$ (are not mandatory, read below)

1 YEAR COLOR REFRESHER............... 250$
2 YEAR COLOR REFRESHER............... 275$
---
---
WHAT IS MICROBLADING ?
---
It is a technique derived from traditional cosmetic tattooing that involves a disposable hand-held tool. This fine blade tool is able to create realistic looking hair-like strokes by depositing pigment in the upper middle layers of the skin. Being a "semi permanent" technique that is designed to get lighter over time.

Benefits
Time saver
Natural looking
Safe for sensitive skin
Saves money long term
Long lasting 1-2 years before refresher needed
Sleep, swim, perspire, wash, cry and your makeup remains in place
---
WHO IS NOT A CANDIDATE
---
While permanent makeup is great for most people, some individuals are not suitable for these treatments.

INELIGIBLE WITHOUT EXCEPTION:
- Under 18 years of age
- Pregnant or nursing
- Sick with cold, flu etc..
- Using Botox/fillers in passed 3 weeks
- Epilepsy
- Using a pacemaker
- Major heart problems
- Blood conditions like Hemophilia, HIV or Hepatitis
- Uncontrolled high blood pressure
- Active skin cancer
- Prone to keloids
- Skin conditions present on brow area such as psoriasis,
Keratosis, Seborrhoea Dermatitis, sunburns, acne, eczema,
blister & rashes etc...
- Those with post-inflammatory hyperpigmentation
- Used Accutane in the past year
ELIGIBLE WITH DOCTOR CLEARANCE & NOTE:
- On blood thinners
- Diabetic
- Glaucoma
- Have recently undergone radio/chemotherapy
- Had an organ transplant.

ELIGIBLE BASED ON INDIVIDUAL CASES:
- Individuals who are allergic to topical anesthetics & metals
- Those with a dark pre-existing eyebrow tattoo.
( The brow tattoo must be light enough for us to draw the hairstrokes on top of. We ask anyone with a previous eyebrow tattoo to send us an email: ELEKTRA@STAYBOLD.CA with a picture of their eyebrows with no makeup on, so we can evaluate.)
Please let your stylist know of any concerns.
---
WHO IS MICROBLADING FOR ?
---
Not everyone is a candidate for microblading and there are different elements to consider such as skin condition & health. If you've had Alopecia or Chemoptherapy you may need a full shaping with the powder technique.


Normal to Dry Skin:

You're an ideal candidate for microblading
or powder. in most cases the hair strokes should heal crisp and easily.



Oily Skin

: You're an ideal candidate but you can expect the hair strokes
to heal with a slight blur. Combination brows will be a better
option for your skin type.



Extremely oily skin/large pores:

You're not the best candidate
for microblading you can expect the hair strokes to heal with a
diffused look. Your end result will look more powdered.
A Full Powdered brow is recommended.

THE POWDER TECHNIQUE IS GREAT FOR ALL SKIN TYPES OPPOSED TO MICROBLADING

At Bold, we have very strict guidelines that we follow to decide who is a good candidate for microblading and who should avoid microblading!
---
WHAT HAPPENS AT THE TOUCH UP ?
---
Do not expect FINAL results after the first session as this is a 2 STEP PROCESS.

The first session is used to build shape and gain symmetry. The touch up is for "perfecting" the brows/adding density and making any changes necessary. The touch up session is done 6-8 weeks later after the first treatment. You must understand that even after the touch up, some still might want to fill in a few spots with makeup, as everyone skin takes the pigment differently, we aim for 'PERFECTION' but even this doesn't exist.

Overall you will have much better brows that compliment your face.

A touch-up is a must and is not optional!
Previously tattooed brows, certain skin types / health state/ bad aftercare etc.. may require ONE or a FEW additional touch ups. There is no guarantee.
---
WHAT HAPPENS ON PROCEDURE DAY ?
---
The appointment is booked for 3 hours
What to expect:
We will consult on how everything works.
Your eyebrow area will then be cleaned.
We will draw on the desired brow shape.
(MAX 30mins please come with a open mind)
We will adjust the shape to your liking
Once we are satisfied with the shape we will discuss color pigments.
After complete approval from you we begin Microblading,
once the skin is open a topical anesthetics will
be applied to maintain less discomfort.
Once completed, the pigment will be spread thickly over
the eyebrow area for 10 minutes we will then discuss aftercare.

Please read the POLICY as DEPOSITS ARE NON-REFUNDABLE.
---
HOW IS THE HEALING PROCESS ?
---
Healing time varies per person & can be prolonged if your immune system is compromised/overly stressed/poor diet/health*

It takes 2 weeks for surface skin to heal & 6-8 weeks for full skin healing.

You may experience the following symptoms for the first few days:
- Minor swelling and redness, mild tenderness or bruising.
- Itchiness in and around the treatment area can last up to 2 months.
DAY 1 Immediately after


brows will appear darker, reddish color,
thicker and more defined looking unnatural.

DAY 2-4

Brows WILL get darker as light scabs form.

DAY 4-14

You will experience dry flaking skin (due to scabbing).
When done flaking it will appear muted, greyish and look shiny.



Once fully healed the colour will fade 30-50%

, as it starts to soften and look less defined. As the skin sheds, the tattoo may seem to disappear as the colour has not fully settled or surfaced yet. It will take about a month+ for the brows to heal to its true colour.

Do not be concerned once healed if your brows do not look perfectly full and are patchy, this is normal and will be added at the touch-up sessions.



BE PATIENT

, your brows will go through several phases during the healing cycle.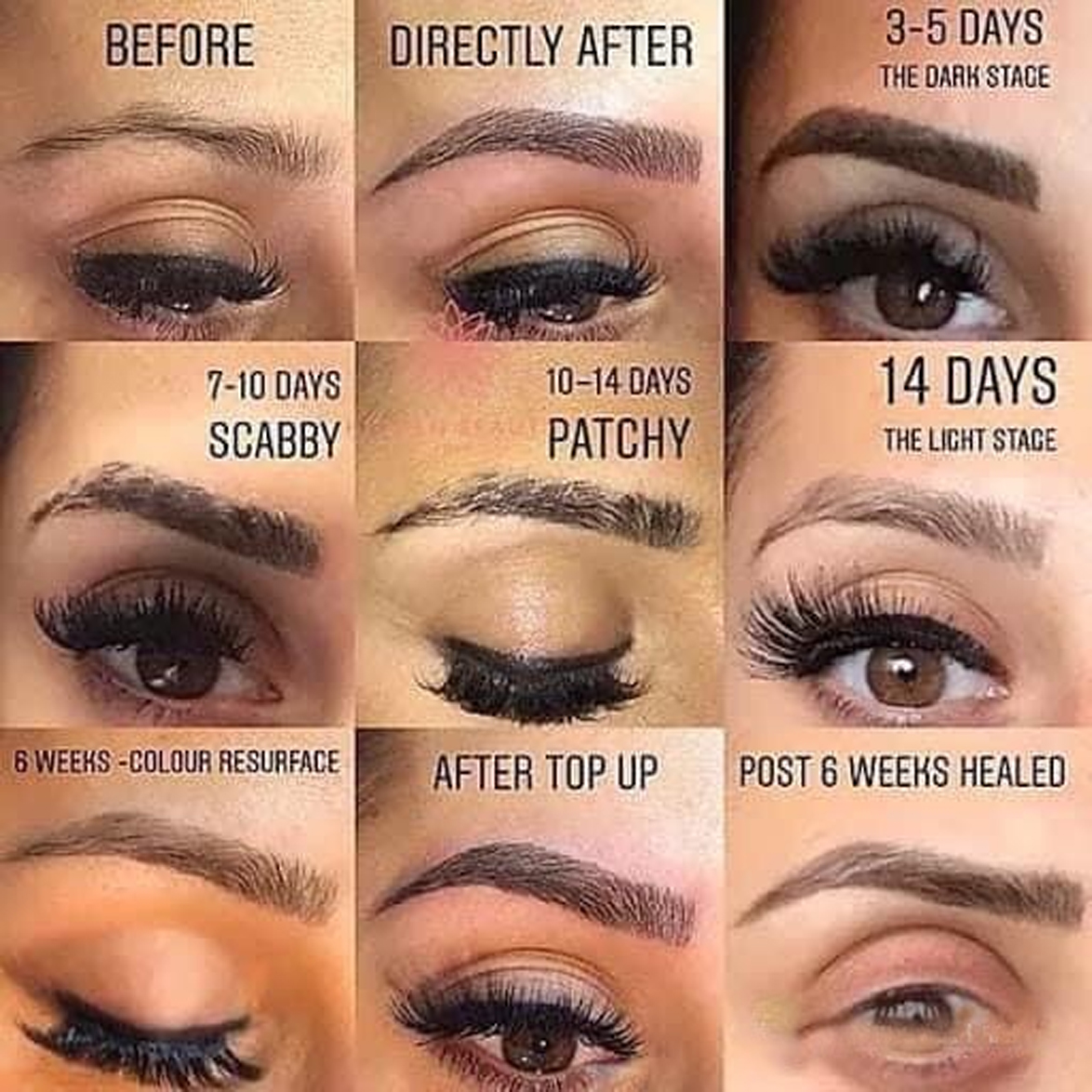 ---
---
HOW LONG DOSE IT LAST ?
---
Microblading is considered semi-permanent because it will get lighter over time and will need upkeep refresher appointments every 1-2 years. Microblading in most cases does not last as long compaired to the other techniques.

A yearly refresher is needed to retain the shape and saturation of the pigment.

There are many factors that affect the treated area that we have NO CONTROL OVER.
Results will vary depending on: skin type, lifestyle, long-term care, aftercare, health, sun exposure, your metabolism, the pigment color used (lighter colors fade faster).

Please note that final results cannot be guaranteed as each unique skin type will hold pigments differently and break down at different rates.
---
DOES IT HURT ?
---
A certain amount of discomfort is associated with this procedure.

You may experience more discomfort at first, as the first pass is creating the hair strokes. Then once the skin is open I will use topical anesthetic, which will then lessen discomfort. Clients have related the procedure with eyebrow threading, plucking multiple hairs at once, or a light scratching of the skin.

Everyone's pain tolerance is different: There can be discomfort even after the topical anesthetic has been used. Anesthetics work better on some people than on others. You may experience hypersensitivity and more discomfort around or during your menstrual cycle.
---
WHAT WILL MY TATTOO LOOK LIKE IF I STOP TREATMENTS ?
---
This Technique is considered "semi permanent" because the pigment color breaks down at different rates leaving behind a slight color change. ( This is why refresher appointments are needed to keep the color true. ) This means that the pigment might not be completely gone if you never refresh the treatment again.
Darker pigments could have a slight tint of brown/grey.
Lighter pigments could have a slight tint of reddish/brown, left behind in the skin.

Everyone varies, for some it can completely disappear while others stay more.

This is normal with permanent makeup & nothing to fear.

---
WHAT IS THE DIFFERENCE BETWEEN COSMETIC TATTOOING AND STANDARD BODY TATTOOING ?
---
Cosmetic tattooing is softer and more subtle, it is meant to be a natural-looking
enhancement.

Body tattoos use ink while cosmetic tattoos use pigments. These pigments are designed to gently fade over time. Fading is desired as it allows the artist to make changes to color and shape over the years, as client's natural coloration and facial structures change.
---
DO I NEED A CONSULTATION ?
---
Consultations are not mandatory as they are done on the day of the appointment as I created this page for you to understand the process.

But If for any reason you feel you have a difficult case, unsure and would like to meet with me or have previously tattooed brows. You should then book a consultation before hand. It is 50$+tax (time booked for 30mins). If you decide after the consultation that you would like to book the appointment your 50$ will be carried over to your appointment. ALL 30mins consultations must be paid when booking the appointment.

(If you would still like a pre-consult beforehand please let me know in the form below)

Please read the POLICY as DEPOSITS ARE NON-REFUNDABLE.
---
HOW DO I BOOK AN APPOINTMENT ?
---
I am a independent stylist therefore appointments for permanent makeup can only be made via email by filling out the form, please click BOOK NOW below.
---
---