Tired of drawing on your eyebrows with makeup to get that soft powder effect just right but end up with unhappy results or worrying they will get smudged or out of place? The Powder effect is the most versatile technique that is great for all skin types.
Everything below as It is important to educate yourself.
Making sure you are a good candidate & for you to understand how it works.
Please fill out the form below & we will be in touch for booking a appointment.
PRICE LIST
---
POWDER BROWS ................................ 400$
TOUCH UP ........................................... 125$ ( Done 6-8weeks later)
ADDITIONAL TOUCH UP ................ 85$
CONSULTATIONS .............................. 50$ (are not mandatory, read below)

1 YEAR COLOR REFRESHER............... 275$
2 YEAR COLOR REFRESHER............... 300$
---
---
WHAT IS POWDER BROWS ?
---
Powder brows (also known as ombre brows, shaded brows or microshading) is a "semi-permanent" make-up cosmetic tattooing procedure that is designed to get lighter over time. We use a tattoo machine to insert the pigment into the top layers of the skin using the pointillism technique. As a result this gives a more powdery eyebrow effect that resembles the look of makeup application, or a fresh eyebrow tint.

Benefits
Time saver

Natural looking

Saves money long term

Safe for sensitive skin

Gives a soft shaded brow pencil look

Long lasting 1–3 years before refresher needed

Heals beautifully on all skin types and skin tones

Sleep, swim, perspire, wash, cry and your makeup remains in place
There are many ways to shade the brow.
Powder/shaded brows:

are layered into the skin to create a softer or denser appearance of a tint or makeup look.







Ombre powder brows:

are darker in the tails, and as one moves to the front of the brow, it starts to fade, giving a three-dimensional look that only makeup can recreate.










Pixelation Powder brows:

the effect of creating pixelation in the skin of little soft dots, creating a more sharper soild effect on the bottom of brow fadeded out with the pointillism technique on the top & head of the brow.
---
WHO IS NOT A CANDIDATE
---
While permanent makeup is great for most people, some individuals are not suitable for these treatments.

INELIGIBLE WITHOUT EXCEPTION:
- Under 18 years of age
- Pregnant or nursing
- Sick with cold, flu etc..
- Using Botox/fillers in passed 3 weeks
- Epilepsy
- Using a pacemaker
- Major heart problems
- Blood conditions like Hemophilia, HIV or Hepatitis
- Uncontrolled high blood pressure
- Active skin cancer
- Prone to keloids
- Skin conditions present on brow area such as psoriasis,
Keratosis, Seborrhoea Dermatitis, sunburns, acne, eczema,
blister & rashes etc...
- Those with post-inflammatory hyperpigmentation
- Used Accutane in the past year
ELIGIBLE WITH DOCTOR CLEARANCE & NOTE:
- On blood thinners
- Diabetic
- Glaucoma
- Have recently undergone radio/chemotherapy
- Had an organ transplant.
ELIGIBLE BASED ON INDIVIDUAL CASES:
- Individuals who are allergic to topical anesthetics & metals
- Those with a dark pre-existing eyebrow tattoo.
( The brow tattoo must be light enough for us to draw the hairstrokes on top of. We ask anyone with a previous eyebrow tattoo to send us an email: ELEKTRA@STAYBOLD.CA with a picture of their eyebrows with no makeup on, so we can evaluate.)
Please let your stylist know of any concerns.
---
WHO IS POWDER BROWS FOR ?
---
Powder brows are good for all healthy skin tyes. There are different elements to consider such as skin condition & health for which technique we will use. If you've had Alopecia or Chemoptherapy you may need a full shaping with the powder technique.


Normal to Dry Skin:

You're an ideal candidate for microblading
or powder. in most cases the hair strokes should heal crisp and easily.



Oily Skin

: You're an ideal candidate but you can expect the
hair strokes to heal with a slight blur with microblading. Powder
or Combination brows will be a better option for your skin type.



Extremely oily skin/large pores:

You're not the best candidate
for microblading you can expect the hair strokes to heal with
a diffused look. Your end result will look more powdered.
A Full Powdered brow is recommended.

THE POWDER TECHNIQUE IS GREAT FOR ALL SKIN TYPES OPPOSED TO MICROBLADING

At Bold, we have very strict guidelines that we follow to decide who is a good candidate for microblading and who should avoid microblading!
---
WHAT HAPPENS AT THE TOUCH UP ?
---
Do not expect FINAL results after the first session as this is a 2 STEP PROCESS.

The first session is used to build shape and gain symmetry. The touch up is for "perfecting" the brows/adding density and making any changes necessary. The touch up session is done 6-8 weeks later after the first treatment. You must understand that even after the touch up, some still might want to fill in a few spots with makeup, as everyone skin takes the pigment differently, we aim for 'PERFECTION' but even this doesn't exist.

Overall you will have much better brows that compliment your face

A touch-up is a must and is not optional
Previously tattooed brows, certain skin types / health state/ bad aftercare etc.. may require ONE or a FEW additional touch ups. There is no guarantee.
---
WHAT HAPPENS ON PROCEDURE DAY ?
---
The appointment is booked for 3 hours
What to expect:
We will consult on how everything works
Your eyebrow area will then be cleaned
We will draw on the desired brow shape.
(MAX 30mins please come with a open mind)
We will adjust the shape to your liking
Once we are satisfied with the shape, pre numbing is applyed
over the brows for 10minutes & we will discuss color pigments.
After complete approval from you we will begin tattooing,
once the skin is open more topical anesthetics will
be applied to maintain less discomfort.
Once completed, we will then discuss aftercare.

Please read the POLICY as DEPOSITS ARE NON-REFUNDABLE.
---
HOW IS THE HEALING PROCESS ?
---
Healing time varies per person & can be prolonged if your immune system is compromised/overly stressed/poor diet/health*

It takes 2 weeks for surface skin to heal & 6-8 weeks for full skin healing.

You may experience the following symptoms for the first few days:
- Minor swelling and redness, mild tenderness or bruising.
- Itchiness in and around the treatment area can last up to 2 months.
DAY 1 Immediately after


brows will appear darker, reddish color,
thicker and more defined looking unnatural.

DAY 2 -4

Brows WILL get darker as light scabs form.

DAY 4-14

You will experience dry flaking skin (due to scabbing).
When done flaking it will appear muted, greyish and look shiny.



Once fully healed the colour will fade 30-50%

, as it starts to soften and look less defined. As the skin sheds, the tattoo may seem to disappear as the colour has not fully settled or surfaced yet. It will take about a month+ for the brows to heal to its true colour.

Do not be concerned once healed if your brows do not look perfectly full and are patchy, this is normal and will be added at the touch-up sessions.



BE PATIENT

, your brows will go through several phases during the healing cycle.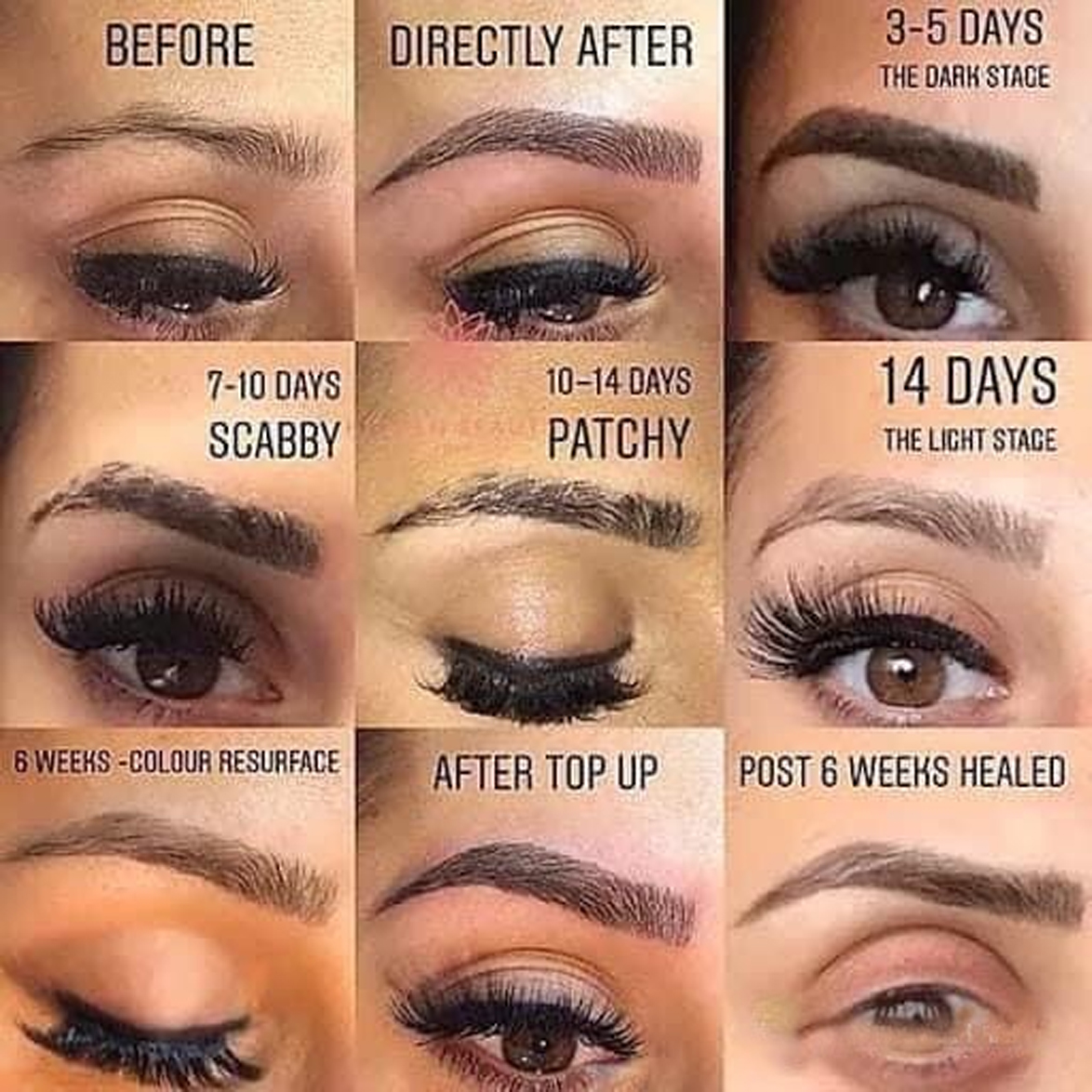 ---
---
PRICE LIST
---
POWDER BROWS ................................ 400$
TOUCH UP ........................................... 125$ ( Done 6-8weeks later)
ADDITIONAL TOUCH UP ................ 85$
CONSULTATIONS .............................. 50$ (are not mandatory, read below)

1 YEAR COLOR REFRESHER............... 275$
2 YEAR COLOR REFRESHER............... 300$
---
---